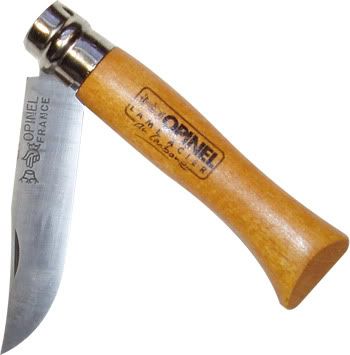 The Opinel knife from Savoy in France is undoubtably a design classic, and is certainly suitable for whittling. In fact, my first whittling was done with an Opinel, and it was that same Opi No. 7 with which I first gashed my thumb, spilling warm red blood on dry summer grass. I digress; the Opinel is a folding knife which locks shut and (on newer models) open. The locking-open is a handy feature and the handle is comfortable to hold, though as with many folding knives, the slot for the blade can lead to blisters where pressure on the skin is concentrated. I became most acutely aware of this after hacking my way through a 4cm limb of birch one afternoon, though it is testament to the quality of the knife that I could even do so.
The Opi is very cheap and cheerful, but prospective buyers will wish to be made aware of recent developments in the manufacture of the knife. The classic model features a beech handle and high-carbon steel blade (oil it to prevent rust with, say, mineral oil). This blade in particular is strong and tough and will sharpen easily and take a good edge. By way of contrast, newer stainless-steel models (and stainless blades in general) are much harder to sharpen and many will not hold that eye-wateringly sharp edge which we all hope and strive for in our knife-care.
In conclusion, an excellent tool, as suitable for whittling as it is for cutting up a fine block of cheese whilst on a picnic.